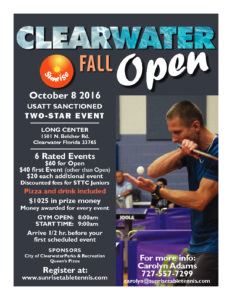 2016 Clearwater Fall Open
USATT-Sanctioned 2-Star Event
Six Rated Events
Over $1,000 Prize Money
Open & U-2000: Limited to first 20 registered players.
Other Events: Limited to first 16 registered players.

WHERE: The Long Center
1501 North Belcher Rd
Clearwater, FL 33765
MAP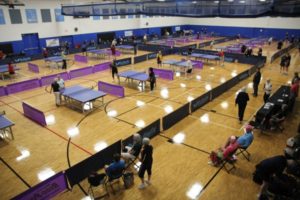 WHEN: Saturday, October 8th, 2016
9:00am – 5:00pm
Gym opens 8:00am.
First event will begin at 9:00am.
Check-in 1/2 hour before player's first event.
(Late check-in may forfeit reservation.)
Entry deadline is October 7th at 6 pm

For questions related to registration: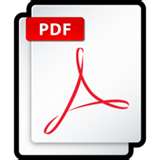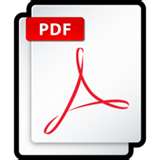 Tournament Flyer
Or phone: Carolyn Adams (727) 557-7299
FREE Pizza and Drink to All Participants.
There will be no tables available for open club play the day of the tournament. All the tables will be reserved for the event.
This tournament is part of the Mid-Florida Table Tennis Tour.
The top four players of each division in each series tournament at the three participating clubs gain tour points that accumulate throughout the year. Each club is hosting two tournaments to give players six chances to earn points for the series. All players registered in our Clearwater Fall Open Tournament will be automatically entered into the tour.
---
Registered Players (updated 10/5/2016)

Registration will be open until Oct 7th at 6:00pm.

ENTRY FEES PAID


Marco Navas – 2550 Open
Kit Jeerapaet – 2262 Open
Robert Ashmeade – 1854 U2000
Tomasz Piscarczyk – 1824 Open, U2000
Aswin Kumar – 1753 U2000, U1800
Chuck Michell – *1750 U2000, U1800
Gar Bo Leung – 1693 U2000, U1800
Steve Simon – 1583 U2000, U1800
Phil Gehres – 1492 U1800, U1600
Victor Marik – 1429 U1800, U1600
Adolpho Pinto – 1365 U1800, U1600
Bill Robbins – 1296 U1800, U1600
Tara Profitt – 1138 U1600, U1400
Nancy Calderone – 793 U1200
Edin Haveric – *? U1600, U1400
Valerie Rolph – 710 U1200

PAYMENT DUE (by Oct 7th, 6pm)
Event reservation is not guaranteed until paid.


Garth Jordan – 2044 Open
J. Shay Langley – U2000, U1800The Open, U-2100 and U-1950 events are now full. We are taking an alternates list. If spots become available, alternates will be added to the event in the order of payment received.

ALTERNATES LIST – Top is first alternate.


Tyson McCoy – 1593 (U2100)
Doug Wilcock – 1837 (Open, U2100)
Richard Ciz – 2271 (Open)
*Rating is estimated.
2016 Clearwater Fall Open Winners
---
Watch the tournament slideshow on YouTube!

Open
U2100
U1950

Bin Hai Chu
Kit Jeerapaet
Sherlyn Barvie-Perez
Edis Osmanagic

Sherlyn Barvie-Perez
Dimitri Greydinger
Edis Osmanagic
Jermaine Bennett

Van Ly
Shaun Sapp
Felipe Ruiz
Trent Tedesco
U1800
U1650
U1500

Tyson McCoy
J. Shay Langley
Sean Hernandez

Tyson McCoy
Kirkfred Villorente
Sean Hernandez

John Mason
Jasper Lew
Maurice Cohen
U1350
U1200
Sandpaper

Robert Funkhouser
Steve Simon
Shamir Kotadya

Les Rumak
Bruce Ward
Lee Danielson

Bin Hai Chu
Kit Jeerapaet
Ty Hoff
Bill Robbins
U-2600 Doubles
Open Doubles

Thang Cao/Janet Irish
Carolyn Adams/William Robbins

Brian O'Reilly/Collin O'Reilly
Angel Morales/Sherlyn Barvie-Perez
Teams
Sand Paper

South East Mix
(Garth Jordan/Winston Dowridge/Hisae Senko
Track Data
(Colin O�Reilly/Brian O�OReilly)

Bill Robbins
Keith Hanley