Presented by Sunrise Table Tennis Club, Clearwater FL
Reporting Times: Players sign in from 8:00 AM – 8:45 AM. Play will begin at 9:00 AM. Players not signed in by 8:45 AM may be defaulted for the entire event (and replaced by an alternate) at the discretion of the Tournament Director.
All USATT Regulations Apply. All matches are 3 out of 5 games to 11 points. The tournament committee reserves the right to cancel the tournament or modify the events or formats based on the number of entries or other factors. No prize money or trophies will be awarded for defaults, splits, unfinished matches or to unrated players (except in the Championship Class).
Unrated Players must have an estimated rating to enter.
COACHING RULES: USATT/ITTF rules will apply.
USATT Dress Code is enforced. Do not wear white shirts, shorts, skirts
Tables and Nets: USATT-approved equipment will be used: 12 tables (Butterfly tables/nets)
Balls: 3 Star 40+ poly Nittaku white balls.
Playing surface: Gym has hardwood floor and is air-conditioned.
Entry Deadline: Postal mail entries must be received by April 13, 2018. Online entries must be received by April 13, 2018 before 6 pm. USATT ratings will be used.
Eligibility: Players who are not currently a USATT General Member must purchase a USATT Membership or a Tournament Pass as part of their tournament entry.
Default Policy: ITTF/USATT rules apply.
Players not signed in within 10 minutes after an event's starting time may be defaulted.
Refunds: In the event one cannot attend the tournament after submittal of fees, a refund less $5.00 shall be made provided notification of the inability to attend is received no later than 6 pm, April 13, 2018.
SPONSORS: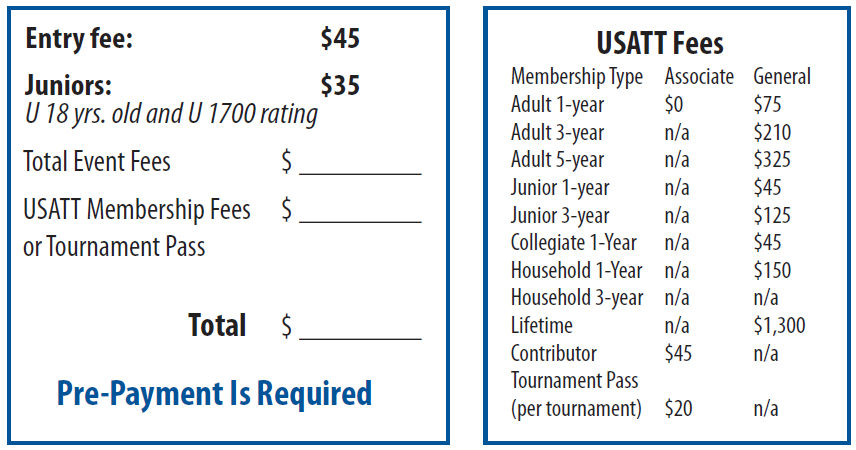 PAYMENT: Check or Money Order
Payable to: Sunrise Table Tennis Club
Mail to: Carolyn Adams
1651 Lakeview Lane #B,
Dunedin, Florida 34698
Questions? Call Carolyn: 727-557-7299 or
E-Mail: STTC@sunrisetabletennis.com
if delayed call Director, Keith Hanley:
(727) 557-7299
DAY OF EVENT PHONE NUMBER
DEADLINE for receiving PAID entry form—6 pm, April 13, 2018