Jenson Van Emburgh Takes More Medals on his Paralympic Journey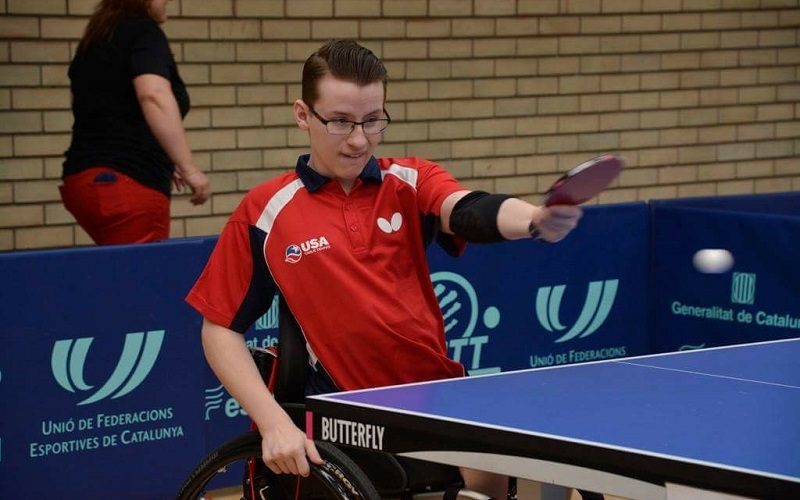 Jenson Van Emburgh, a seventeen-year-old Class 3 para table tennis player from Florida, excelled in the ITTF Para Table Tennis Tournament September 6-10, 2017 in Ostrava, Czech Republic. He achieved a bronze medal in singles after winning against many competitive, high-level players in tough matches, and only lost to Welder Knaf, a world ranked number ten player from Brazil. It was a very close loss, only by two points on the fifth match of the semi-final game. Van Emburgh also won a silver medal in team in this tournament.
The result adds to a growing collection of superb results from the talented Van Emburgh who, this year alone, has added some significant achievements to his resume. The Czech Para open result is significant in that it was the final para event ahead of the European Para Championships and drew a high level of competition for players doing their last preparation. Taking two medals away from this event is an outstanding achievement for Jenson.
Carrying spinal cord injury at T-1, Van Emburgh started playing when he was nine after one of his brother's tennis tournament.
"I wasn't very good at tennis due to how disabled I am and wanted to find a sport that would be more of a fair playing ground and found table tennis was it," he said.
Born in Naples Florida, Van Emburgh lived there for a year, moved to Kentucky for few years then went to Wisconsin where he started his table tennis career under the coaching of coach Ladislav Sranko, or Latso, from Kosice Slovakia. Now, he is back in Belleair Beach Florida, and continues his training with coach Gary Fraiman.
Van Emburgh is currently a senior at Seminole High School in Seminole, Florida. He plans to train table tennis full time after graduating, as opposed to four times a week at present.
"I don't want to go to college right away. I would train with either of my coach or move to Europe and train," he said.
Van Emburgh said he wanted to practice hard to reach his goal of winning a Paralympic gold medal in Tokyo in 2020. He was bronze medalist in both Para US Open 2016 and Para Spanish Open 2017, and he also beat a player ranked world 25 in 2017 Bayreuth Para Open in Germany.
Van Emburgh's ultimate goal is to win a gold medal in Paralympics and reach world number one. With this pace of growing in his remarkable performance, he is one step closer every day to this goal.
Article credit: teamusa.org