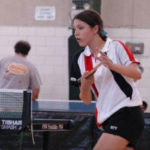 Table Tennis is A Sport for a Lifetime!
It builds character, competitive spirit and self-confidence, while providing a social setting and cardio-excercise. And it can be played from youth all the way through senior years.
The Sunrise Table Tennis Club raises donations from Memberships and Sponsorships to promote education and participation in the sport of table tennis by juniors – those under the age of 18. We offer training in table tennis to juniors through our Junior Training Program.
The STTC also provides a Summer Camp program each year in partnership with the City of Clearwater, which culminates in the Annual Summer Camp Table Tennis Championship.