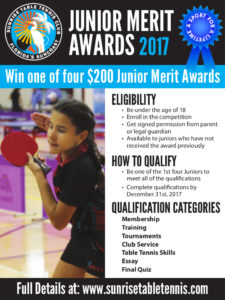 Table tennis is a sport that lasts a lifetime. To encourage participation of new Juniors and to provide an incentive to all Junior players to become knowledgeable and skilled in our sport, we are offering a $200.00 Junior Merit Award to each of the four junior players who are first to complete the Junior Merit Award Competition during the year.
Eligibility
Be under the age of 18
Enroll in the competition
Get signed permission from parent or legal guardian
Note: Available only to juniors who have not previously received the award.
How to Qualify
Be one of the 1st four Juniors to meet all of the qualifications
Complete qualifications no later than December 31st, 2017
CLICK HERE to download the Enrollment Form
QUALIFICATIONS
MEMBERSHIP
The Junior must be a Member of the STTC as well as have a membership in the USATT. USATT membership is available through the STTC, or may be obtained at the time of participation in a USATT-sanctioned tournament (see below).
TRAINING
The Junior must take at least 20 hours of training by one of our club coaches (Coach Gary or Coach John). The training may be part of our Junior Training program or individual private lessons. The Junior must get the signature of the coach at each lesson to attest the amount of time in training.
TOURNAMENTS
The Junior must compete in four tournaments during the year. At least two of the tournaments must be those conducted by the STTC, and any others must be conducted by USATT-affiliated clubs. One tournament must be a USATT-sanctioned tournament. The Junior must get the signature of the tournament director, umpire or an STTC club coach at the time of each tournament to attest their participation in the tournament.
CLUB SERVICE
The Junior must show their support for the STTC through volunteer work. The Junior must get the signature of an STTC club coach or Officer to attest to their volunteer work and good attitude towards participation in the club.
TABLE TENNIS SKILLS
The Junior must demonstrate knowledge and ability and each of five basic skills for our sport:
Legal Serve
Return of Serve
Forehand Strokes
Backhand Strokes
Keeping Score
The Junior must get the signature of an STTC club coach or umpire to attest to their knowledge and ability in each of these skill
ESSAY
The Junior must submit an original essay of at least 250 words explaining sportsmanship and why it is important, with at least three examples of good sportsmanship in table tennis.
FINAL QUIZ
The Junior must complete a final multiple-choice quiz on the rules and etiquette of table tennis, with at least an 80% passing grade.