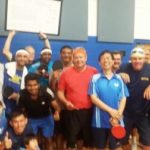 A well fought battle on 9/10/2016 between TEAM STTC and TEAM LAND-O-LAKES. 18 players from each team were divided into three groups of 12 players each, STTC Group One out-pointed the LOL players but STTC Groups Two and Three fell a little short, giving the overall points and victory to a scrappy LOL group of players.
On the whole, all had a great time, great play and not to forget , get snacks provided by Newton and Don. It was a super day of table tennis. After the tournament many LOL players stayed around for additional play.
We hope to do it again soon at the Land O Lakes club.
-John, Tournaments Offic