The Clearwater Club Challenge Tournament Series is a series of table
tennis tournaments through the year that offers
divisions for any and all levels of play, from the
basement ping-pong player all the way to the top-tier
players. Young or old and anywhere in between, age is
not important. We have special pricing for our junior
players ages 9-17. Come enjoy the good fun which comes
with the intensity of competing in this Olympic sport.
This tournament is open to anyone who wishes to
enter. Participants may play in any of the Clearwater Club Challenge
Tournament Series events, one or more.
---
2017
Steve Simon Memorial Challenge Tournament
WHERE: Long Center
1501 N Belcher Rd
Clearwater, FL. 33765
MAP
WHEN: Saturday, February 11th, 2017 9:00am – 4:00pm
Registration and Check-In: 8:15-8:45am.
2017 Steve Simon Memorial Challenge Tournament Winners

Event #1


Class A
1st Tomasz Pisarczyk
2nd Felipe Ruiz
3rd Daniel Plyler

Class B
1st Ash Dubal
2nd Anna Strakosha
3rd Ed Curran

Class C
1st Nicholas Kozenieski
2nd Jake Hofner
3rd Kero Mikhaeil

Class D
1st Alxan Mounir
2nd Nancy Calderone
3rd Bob O'Donahue

Class E
1st Daniel Szyscka
2nd Josh Bettencourt
3rd Dorian Howell

Doubles

1st Ash Dubal/Tomasz Pisarczyk
2nd Igor Bubis/Felipe Ruiz
---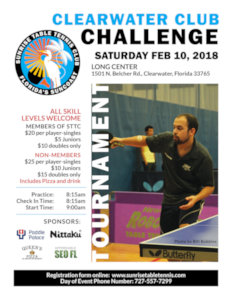 WHERE: Long Center
1501 N Belcher Rd
Clearwater, FL. 33765
MAP
WHEN: Saturday, February 10, 2018 9:00 am
Registration and Check-In: 8:15-8:45 am.
For any tournament questions, call Carolyn Adams at 727-557-7299 or SEND AN EMAIL



Printable Entry Form

Tournament Flyer
Click Here for Online Registration
List of Registered Players
| # | First Name | Last Name | Club | Rating |
| --- | --- | --- | --- | --- |
| 1 | Enos | Washington | Grand Forks, ND | 1667 |
| 2 | Carolyn | Adams | STTC | 1085 |
| 3 | Bob | O'Donohue | STTC | 823 |
| 4 | Karen | French | STTC | 736 |
* – Estimated rating